Tom Bentley's 40 years in Export / Military Packaging Business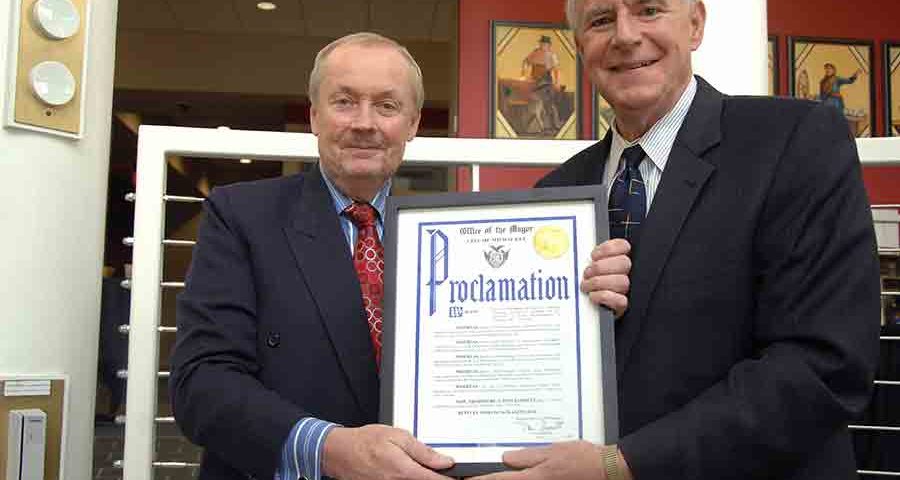 In 1974 Tom Bentley re-energized the packaging company that his family had originally started in 1942. He began a journey that would grow the company to where it is today. Through the years Tom has received many awards including, the Presidential "E Award" for support of United States Exports in 1990, the Entrepreneur of the Year Award (EOY) in 1996, the Governors "Export" Award in 1989 and 1997, and NASBITE Advancing International Trade Award in 2010.
The Bentley World Packaging Team now operates 14 plants in multiple locations in the eastern United States. With locations in Wisconsin, Ohio, Pennsylvania, and U.S. ports in both Baltimore, MD and Charleston, SC. BWP loads ocean containers, builds wood crates, provides Military / Government packaging solutions and handles high / wide equipment for overseas destinations.
Bentley World Packaging celebrated 40 years on Wednesday, May 7th at the MSOE Grohmann Museum in Milwaukee, WI. Customers and city officials gathered to congratulate Tom. Also on hand were some high power delegates from the state.
Tom was presented with three proclamations declaring May 7, 2014 Bentley World Packaging Day. On hand to present these were Mayor Tom Barrett, Reed Hall from Wisconsin Economic Development (standing in for Governor Scott Walker), and Alderman Joe Davis.
Finally, at the event CEO, Jeff Van Straten introduced BWP's CFO, Angela Damon, and our Regional Directors Dick Farrell (Wisconsin) Todd Bentley (Dayton and Cincinnati), Todd Wrobbel (Baltimore), and Ron Skully (Cleveland, Pittsburgh, and Charleston) (not in attendance) to the customers and media who attended.