What is PinchCrate and How It is Revolutionizing the Wood Packaging Industry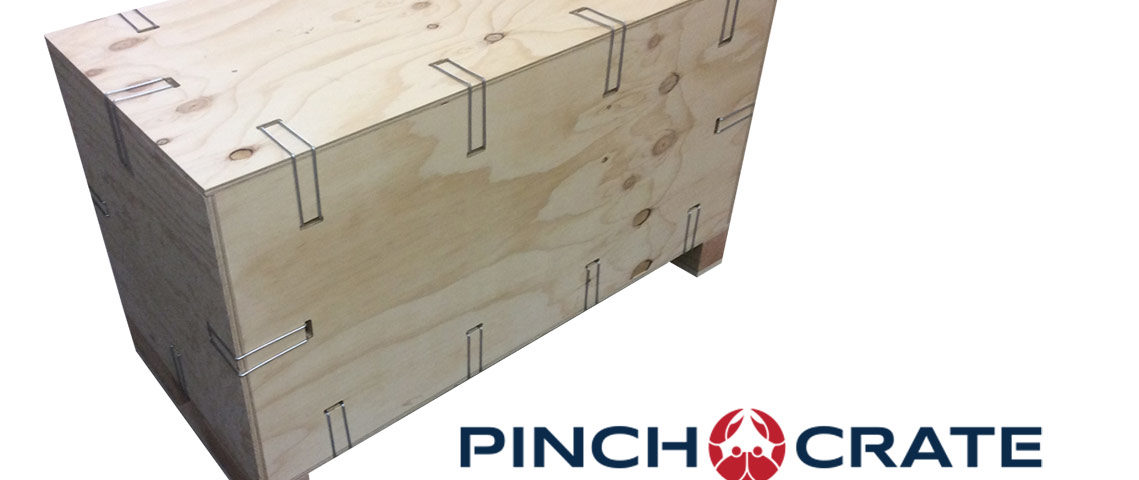 Gone are the days of tediously assembling a wood crate only for it to be disassembled upon arrival and destroyed. With PinchCrate, Bentley's latest addition to our wood packaging product line, you can now easily, effectively, and most importantly, economically, assemble and disassemble shipping containers and crates.
What is PinchCrate?
PinchCrate is new collapsible wood packaging system that uses fasteners, instead of traditional nails and screws. The PinchCrate fasteners are made from anti-rust, galvanized, high-tensile spring wire. The fasteners are safe and have triple the holding power of typical nails. By using fasteners instead of traditional nails, PinchCrates are completely collapsible and reusable.
Benefits of Using PinchCrate
PinchCrate is revolutionizing the wood packaging industry due to its many benefits including being cost-effective, easy to use, durable, reusable, customizable and fully compliant.
PinchCrate is cost-effective in both material and labor. From a material standpoint, you only need to buy one PinchCrate compared to multiple wooden crates, that are often destroyed when disassembled. From a labor standpoint, one PinchCrate can cut labor costs by upwards of 65 percent. One PinchCrate fastener replaces five to six nails, making box assembly faster than ever and disassembly just as fast.
PinchCrate is also easy to use so just about anyone on your team can assemble or disassemble the crate. It is effortlessly constructed and torn down for easy freight, warehousing and storage.
Bentley's new crating solution is also durable. PinchCrate fasteners have triple the holding power than just nails alone. The product is also stackable, built for transport, and allows for easy 2-way or 4-way forklift accessibility.
Another key benefit of PinchCrate is its reusability. The fasteners are interchangeable and completely reusable. Crates can be used multiple times and damaged walls can be replaced without having to replace the entire crate.
PinchCrates are also customizable. Whether your product is big or small, Bentley can build crates to meet customers' needs and the needs of your business.
Lastly, this new crating option, is fully compliant. PinchCrates uses heat treated and stamped wood in compliance with IPPC ISPM15 for international shipments. You can rest easy and know that your shipment meets all necessary compliance.
Interested in learning more about PinchCrate?